Hey everyone yet again.
As most of you know I am a committed n gauge modeller but I have recently had an urge to build something in oo. Fortunately fellow forum member and work colleague kennyGWSR has been planning to create an exhibition layout of Bodmin General in oo. This gave me the idea to create a joint layout!!!
Our idea is for kenny to model Bodmin General, and I will be modelling Boscarne Junction. So in way we will have modelled the Bodmin & Wenford railway with our fiddle yard acting as Bodmin Parkway. The layout will be constructed so it can be split down into the two respected stations so we have a layout each at home.
We intend to use DCC and on my part I will only be obtaining small amounts of stock so all my engines will be fitted with sound chips. Kenny is only just starting in digital so sound is not in his near future plans.
And talking of plans…
Boscarne Junction

Bodmin General (still a few tweaks needed on yard)
Bodmin – Boscarne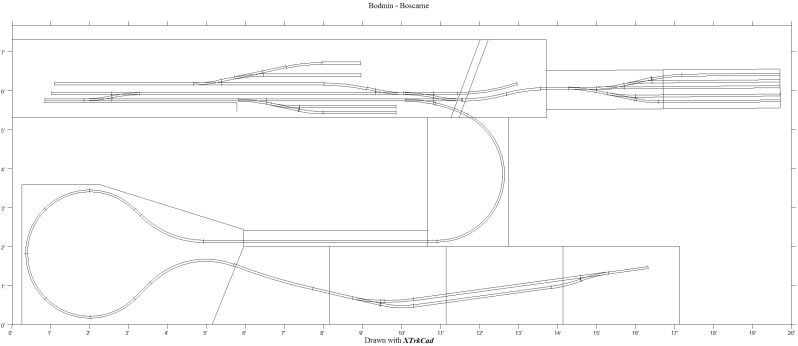 Plans are not exactly to scale but they have been designed to accept our decided maximum rake of 3 Mk1 coaches.
Now stock, Kenny has plenty of suitable stock that I'm sure he will explain to everyone shortly, but I'll say mine. Now I still have some of my oo from 7 years ago but I will not be using them as they are not suitable for bodmin. But anyway below is my proposed stock list with indication of which I already have.
B&W based Locos
Bachmann 8750 pannier 4612 GWR Green
Bachmann 4575 prairie 5552 BR Green
Guest Locos
Bachmann 45xx prairie 4566 BR Green (just purchased off ebay)
Bachmann City 3440 City Of Truro GWR Green
Coaching stock
Bachmann Mk1 RMB Crimson/Cream
Bachmann Mk1 SO Crimson/Cream (Purchased)
Bachmann Mk1 BSK Crimson/Cream
Bachmann Mk1 SO Chocolate/Cream
Bachmann Mk1 RMB Chocolate/Cream
Bachmann Mk1 RFO Chocolate/Cream
Bachmann Mk1 RU Chocolate/Cream
Bachmann Mk1 BCK Chocolate/Cream (Purchased)
Bachmann Mk1 BSK Chocolate/Cream
Wagons
Various Bachmann ones mainly box vans and china clay wagons.
Also got our shops limited edition runs

So far I have started my fiddle yard and photos will follow soon.
Hope you enjoy the build, I shall now pass you over to kenny.
Ollie