Here's my initial plan. I'll have a modern-era large layout on two levels, DCC controlled.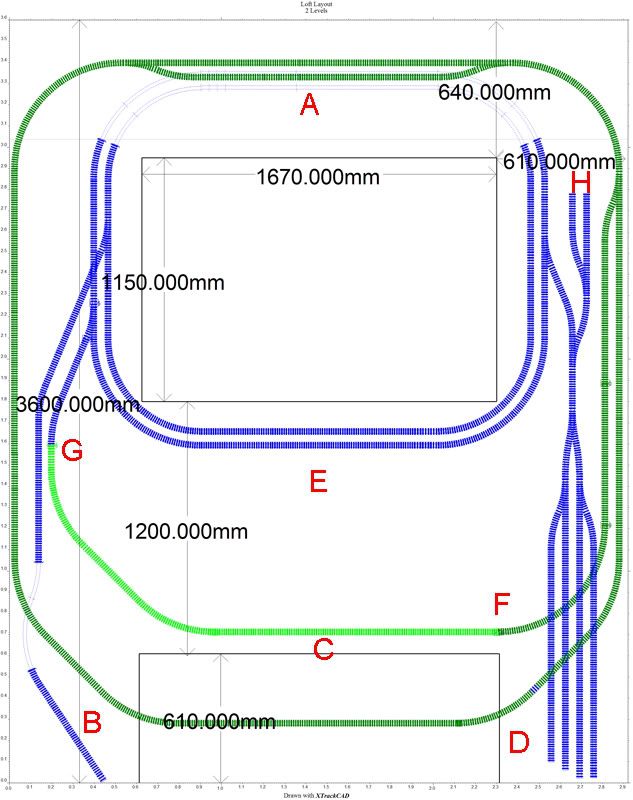 I cannot figure out how to change the colours of the tracks, so just take it as the outer loop being at a higher level than the rest. The Key:
A - Urban area. The upper line will be at street level along with a number of town-centre type buildings and maybe some residential. I haven't decided on the exact position of where the tracks will pass through, it depends on what else I want at track level. The low level platforms will be roughly below the main line ones, towards the opening.
B - A small station, hopefully at a kind of seaside village if I can figure that out.
C - Sea cliffs - the track above the letter would be sloping down the hillside behind the cliffs.
D - Some kind of container / goods sea port.
E - I've not decided on what to put here yet, it could be industrial or agricultural. It may be a home to some of Sodor's finest, at least in the short term.
F to G - is my incline between the two levels, it gives about 1.8 metres to drop / rise, although part of that is on a curve.
H - Some kind of traction depot for the goods locos.
My thoughts are:
The main outer loop is shown in Hornby 3rd radius, but I will make it in 4th to run high speed trains such as the Pendolino or Eurostar.
The central double loop might just be a little boring, sadly I have a scientific brain and not an artistic one, so I tend to think in straight lines and even curves. Looking at layouts in this forum those which loop around streets or hills are more interesting looking. It will be used for running "local" services and slow goods so I might change that. I'll need to bring in my arty cousin as an artistic consultant!
The reason for the upper loop over the seaside things and the bay are to make use of my Grand Suspension Bridge. It kind of takes away the reality from the whole thing, but I've had it for years and it has never been out of the box, so I'm determined to use it and it allows me to have a long fast loop of the whole space.
Any comments are welcome, positive and negative ones. I especially welcome artistic / aesthetic suggestions.
Edit - picture improved.