Hi eveyone,
As promised in my intro, here follows some pics and updates on my first layout build, inspired (demanded) by my sons interest in model trains.
Initially we picked up a Hornby Coastal Freight set from Argos and track packs B and C from local model shops. After Xmas I set to work on a more operational track plan with some kind of rationale for the layout. Our theme was a Staffordshire branch line in BR steamdays.
Primary in the design stage of the layout was to think of what our son could operate, how far he could reach to change points and leaving space to create scenic breaks to disguise the two loop basic plan.
After 10 or so revisions I came up with this: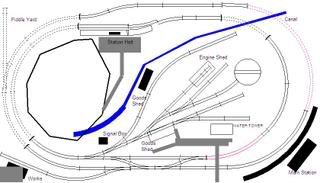 A coal or clay works where full trains can be picked up and taken to a canal for shipping on with two stations for passenger operations
A trip up to Hattons and we had all the track needed and a lovely Bachmann 0-6-2. While laying the track at this stage drawing pins were used so we could see what worked.
Which brought us to this stage:
(a set of points is missing in this pic - the spring had broken
)
It was about this time that the layout investors decided "we didn't have hundereds of pounds to spend on a layout" so I looked into what could be made for free / pennies. Some very useful threads from these boards, RMWeb and the odd YouTube wargaming vid gave some great ideas, amongst which:
1. Card Buildings, durable, relatively cheap nad even available to download and print your own! - Excellent!
and I'm particulary happy with the one on the left here:
2. DAS modelling clay, at £3 per block, this air drying clay is superb, not that I can use it well yet but its got great potential (and tools for it can be 'borrowed' from our sons play dough sets
)
second attempt at a tunnel mouth, took the time to scribe round each brick and added some embelishments;
3. DIY scatter,
Scatter seems really expensive. I hunted down a pretty cool technique for making your own. Sawdust from sanding machines (avoid MDF dust unless you want to operate your trains in a HASMAT suit!) was mixed with regular 'childrens' paint to make a thick green porridge, keep adding more sawdust until the mix really cant take anymore. Dry overnight, sieve out the big lumps and your done. Used tea leaves is another old but useful trick. I tried to make some flock too by filling a sponge with water and then freezing it, once hard frozen grate the block with a cheese grater, leave to dry/defrost and then paint with acryllics. It came out a bit bright but I was only testing techniques and at £1 for 3 jumbo car sponges this might be a go'er if I can get the colours right
4. Laminated cardboard for hills etc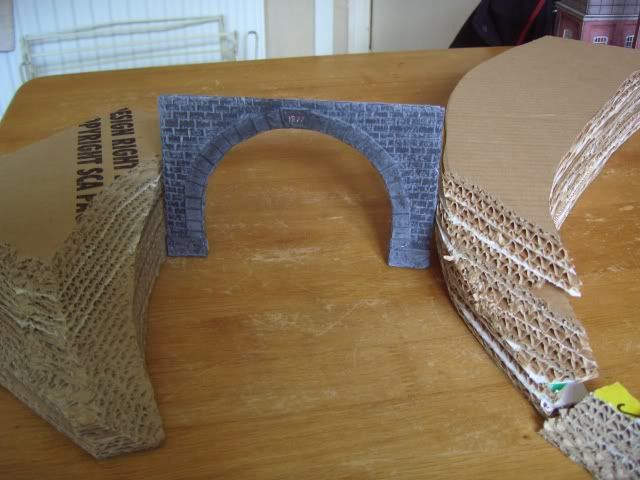 5. Trees
Some excellent tips and tutorials on the web for this, my fave was this one:
[url]http://www.modelrailroadforums.com/forum/showthread.php?t=5015
[/url]
which may even be a link given on these boards already. This guys trees are great - as are the ones from a member who shows up late in the thread.
Just done a couple so far - again, trying things out atm
Well thats pretty much the progress so far, just an additional controller and some wiring added over the last few days. I've scrapped the run around loop in the sidings (too small) and extended the 'works' siding to a more useable length. I'll try and get a more up to date picture tommorrow in the daylight.
Heres the wiring details:
any comments welcome - but be gentle its my first time
kind regards
Steve