Posts: 189
Joined: Fri Aug 17, 2007 3:21 pm
Location: bucks
Hi,

Really like this layout, did you make the trees? and if so how?

Oak
---
Posts: 53
Joined: Wed Jan 28, 2009 10:43 pm
---
Posts: 48
Joined: Sat Aug 08, 2009 9:12 pm
Location: Isle of Wight
Hello Steve,
I have been reading through this thread over the last couple of evenings and enjoying it very much. I think that first video is brilliant for a first effort. I have to say that I think you are far to modest

I look forward to more posts from you with regard to further progress...cheers,
Shaun
---
Posts: 53
Joined: Wed Jan 28, 2009 10:43 pm
Thanks shaun

The video was fun so I'll have another go soon, the stock will look better as its mostly weathered up now.
I look at the excellent layouts on here and rmweb for inspiration and gauge my efforts by those standards, which is why I always know theres loads better out there and I can try
that
much harder to get things looking good.
Over the past couple of nights I've done a fence with concrete posts;
The posts were cut from mountboard and reinforced with CA to allow me to sand the rounded top. Tiny holes drilled with the lidl rotary tool (which for £13 in Jan 09 has been indispensable), stuck on a drawing pin, painted and then fishing line for the wire.
the fence inspector giving them the once over
I could swear that telegraph pole was straight!
our next project will be a bottle kiln and pot bank buildings...
---
Posts: 2138
Joined: Sat May 09, 2009 10:34 am
Location: Leeds
Wow.......
this thread just keeps getting better & better,
awesome weathering,
awesome fences
what next?


T&C
---
Posts: 334
Joined: Sun Sep 06, 2009 3:54 pm
Hi Steve, tiz looking fantastic m8.. those painted people are nothing short of amazing. Also the tunnel entrances, I need 9 or maybe 10... fancy making them? lol... only joking but I am now determined to have a go at that.
I also like the trees,, if your better half got involved ask her if she will marry me if you get divorced

I too built a layout for my lad and me, it grew and grew and now is massive and fills the loft. My son is now 18 and into females, Muse, playing drums, playing guitar but mainly females lol.
So as I retire next month I have taken over the layout as Mine and am on relaying a lot of track and new points also changing it over to DCC. I will be watching your thread to pick up lots of tips.
Great stuff
Greets from Slackers and the land of the prince bishops (Durham)
The path of my life is strewn with cowpats from the devil's own satanic herd
---
Posts: 53
Joined: Wed Jan 28, 2009 10:43 pm
hi slackers,
DAS clay has been a real discovery for me, along with mountboard scraps from a framing shop it lends itself really well to structures. I plan on replacing all our metcalfe stuff with scratchbuilt buildings eventually.
Its mainly me that does the fine modelling as pretty soon I realised to get a good standard 'daddy will do that bit' but there are plenty of things that I let him loose on, drilling, holding solder for me and getting covered in pva and hbl being some.
Hopefully I can ween my lad off it b4 he's 18! Does your son never want to show the girls his train set?

good luck with the trackwork - have you get a layout thread on here I can't find it?
---
Posts: 53
Joined: Wed Jan 28, 2009 10:43 pm
Well the work on the potbank is progressing with the kiln all marked up now ready for scribing and a small workshop building underway.
also on the workbench atm are some platform lights bodged up from bits of biro refill and tea light holder: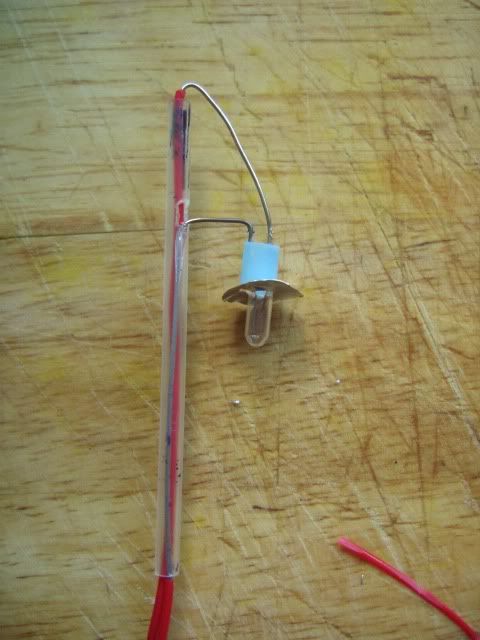 pretty happy with those for a mornings work and no proper materials
---
Posts: 53
Joined: Wed Jan 28, 2009 10:43 pm
Hi again all,
Been dead busy here but I thought I'd take time to make a quick update.
We have demolished the fiddleyard!! - our lad couldn't see over the ****ing thing! We have also painted and added our first kiln and are cracking on with the second.
Hope everyone has a good holiday!
regards
Steve
---
Hey Steve

just been looking at your thread. nice layout - just makes me think that I should get my finger out and do some work on mine! I noticed a few pages back you were on the lookout for some blood and custard coaches for your layout - did you manage to get any? I think I may have 3 matching the one I saw in one of your photos that I was looking to sell/trade as i have gone down a scale to N and they are no longer needed.

if you are interested, send me a PM.

Either way, have a great Christmas!
---
Well I'm not quote sure how I found this thread, but I'm glad I did, some great tips in here and a great looking layout on what seems to have been a shoestring budget - normally I wouldn't bookmark a thread and would rely on subscribing to a topic to get updates, but sadly this one seems to have ground to a halt now
Still, some fantastic little bits of info so bookmarking it is to use as reference - hopefully at some point I will get a notification in my email that work has recommenced on this cracking little layout
---
Posts: 12213
Joined: Thu Mar 11, 2010 12:06 pm
Location: Bottom end of N. Warks line
Steve with the Hat wrote:

I could swear that telegraph pole was straight!
Don't worry about it, I've been asked to climb worse!
---
---
Return to "Personal Layouts - Under Construction"
Who is online
Users browsing this forum: Google Adsense [Bot] and 53 guests