With the closure of the Dungeness Branch, Ive set the wheels in motion to build my next project - Curzon Street Station.
Curzon Street Station will have five platforms with enough length for x2 Class 170 (3Car) Turbostar units or x1 Class 221 (5Car) Super Voyager.
The main operators into Curzon Street will be London Midland (Local Services), Arriva Cross Country (Intercity/Regional), Virgin West Coast (Intercity) and Arriva Trains Wales (Regional), Curzon Street will also have the odd East Midlands Trains services.
The south side of the station there will be a small DMU stabling/Fuelling point entry will be via a carriage wash. On leaving the station trains pass the EWS Adderley Park maintenance depot, then passed Adderley West Junction and into Beechwood Tunnel and the storage area.
Adderley West Junction: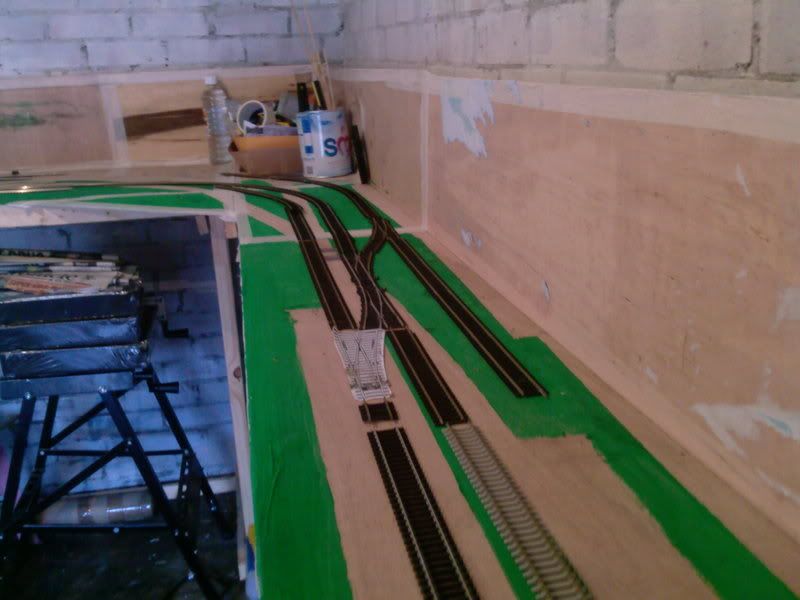 Looking round the bend into the yard at Adderley Park Depot:
The yard and depot at EWS Adderley Park
The fueling point and shed
The carriage washing plant and DMU stabling/Fueling point
Looking back towards Adderley Park from Curzon Street
The track to the far left is Platform 1, with 2/3 and 4,5 in the centre. The lines to the right are the DMU/Carriage stabling Loop
All the buildings on Curzon Street are/will be from the Bachmann Scene Craft range, I also plan to add the LNWR Style Signal Box at Curzon Street as the line is on the original LNW route from London to Manchester, but the box at Adderley West Junction will be of Great Western design as there used to be a route from here into Birmingham Moor St, this was a joint section with the LNW.
The EWS Depot at Adderley Park will see little use, mainly seeing a odd locomotive exam, the main reason why EWS have retained it is to store/stable Network Rails fleet of MPVs.
----------------------------------------------------------------------------------------------------------------------------------------------------------------------
On the more practical side of things I can get this layout to a semi operational stage pretty quickly as i have 80% of the points i need left over from Dungeness and more than enough flexi track to complete the job, as i brought a fresh box when i got the two fuelling points, shed and washing plant. Ive also brought the Rail Express Class 60 - 60074.
Have a very good Xmas!!!
DRS.