A Sketch Map of the Ffrwd Area.

This is the "Fictional" history map.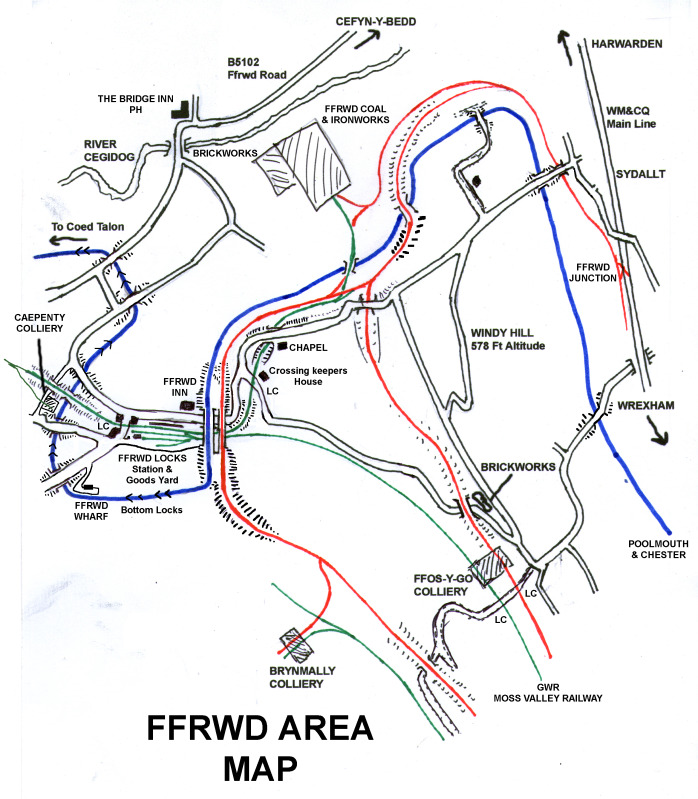 The canal construction started in June 1796.
Ffrwd to Gwersllt Wharf Opened in 1798.
Llanfynedd Quarry Basin (and reservoir) to Ffrwd, and Gwersllt Wharf to Wrexham Town Basin Opened in 1799.
Wrexham Junction (Poolmouth) to Chester opened 1805.
Abandonment of the Wrexham to Trefor Canal Plans led to the "temporary" tramway (Opened in 1808) becoming permanent.
This was (between Ruabon and Wrexham) aquired by the North Wales Mineral Railway in 1844, and converted into part of the Shrewsbury and Chester Railway's main line. Opened 1848.
The First branch railway to Ffrwd opened July 1847. Part of the North Wales Mineral Railway. Included two cable hauled inclines.
Moss Valley Railway opened 11 may 1882.
Ffrwd Ironworks and Colliery was worked from Pre 1796 until 1990.
Brynmally Colliery and Brickworks was worked from 1770 until 1960.
Ffos-Y-Go Collliery was worked from Post 1849 until 1935.
Caepenty Colliery Closed C1920.
Westminster Colliery was worked from 1846 until 1925.
WMCQR Ffos-Y-Go Branch Closed 1935 and lifted 1940.
WMCQR Ffrwd Branch Closed 1991, lifted 2000 (Except for a siding at Ffrwd Junction.)
The GWR and LMS Joint Railway from Ffrwd to Coed Talon closed "temporarily" after a landslip at Ffrith Viaduct in 1952. This closure was quietly made permanent, Crosville Motor Services continuing to run a "replacement" Bus service. This took the busy Ffrwd Level crossing out of use.The local authorities had been campaigning for this to be replaced by a bridge. The road had become busy, and the frequent closing of the gates to road traffic during shunting, etc. were causing problems. This caused some problems for the railway, limiting the length of train that could be dealt with at Ffrwd. A lot of the Ironworks (Later known as the Steelworks.) traffic was afterwards to use the LNER Ffrwd Branch, except for the times this was closed for maintenance. (The landslip was never repaired.)
GWR Moss Valley Railway Closed to Passengers 1st January 1960.
GWR Moss Valley Railway Closed to Goods 1970.
A preservation scheme for the Moss Valley Railway failed, and the line was lifted after 1990.