First post! Hello y'all!
So, it's been a good 8 years at least since I've had a go at anything like this, ant at the time I really didn't know much about what I was doing. It was with my Dad, he who built the layout whilst I watched and gave pointers. Ah, memories... good times!
But I'm older now, and have a great chunk of modelling experience behind me thanks to a bout of wargaming. But it's building things that I love, and a model railway offers a challenge that a toy soldier can't- so I'm very keen on the idea of taking the plunge. The thing is, the layouts I made with my Dad were never completed. This time, hopefully thanks to some input from a community, I can get it done! If you have any advice and comments then please, please let me know.
Okay, so the track plan;

This is my fictional GWR branch terminus to an unknown town (probably near or in Wales), in 'N' gauge. I kind of split here from my Dad in opinion, because he grew up with the LMS so favours them, but God's Wonderful Railway has always been the one for me! Probably because of my fondness for the 14xx 0-4-2T- always has been my favourite engine, and now I come back to this hobby and find that a model of it actually exists in N (I love you, Dapol)!
So, this line is built with the 14xx in mind as the primary locomotive. It's small because I don't have much space (the dimentions of the baseboard are 847mm x 274mm). Running through the numbers on the plan;
1 - Kestrel branch line station kit with passing loop. By my maths, the loop
should
be big enough for four small trucks, wheras an autocoach fits in next to the platform easily. The shaded areas represent dirt roads, so the end of the track goes into a small tram-like siding (as does the siding near (3)). The power connection would be located here, where the track is just long enough to park an old Graham Farish Prairie tank.
2 - Kestrel signal box kit, because I had it on my last layout and always liked it. I don't know if it's very 'GWR' though... Any comments on using Kestrel kits on this layout?
3 - Ratio goods shed kit, again another model I once owned and still like. The three sidings here are built with a shunting puzzle in mind (sadly the name escapes me), and by my maths the longest should be able to hold five trucks, with four or three in the others. The top siding runs in a cutting next to the hill.
4 - Fiddle yard disguised inside a tunnel. The whole top of the board is a cutting in a fairly high hill, and this is probably why I imagine this terminus being in Wales...

5 - This area troubles me, because there isn't really anything
in
it. I'm thinking of having a coaling area and water tower for the engines on the back of the passing loop, but aside from that I can't think of anything. Any help is appreciated!
So that's the plan so far. Please tell me what you think is good and what needs improvement... I haven't bought a whole lot of stuff for it yet, but I do have the board and a piece of track, an old Prairie tank and an autocoach- my baby 14xx should be in the mail as I type, lol.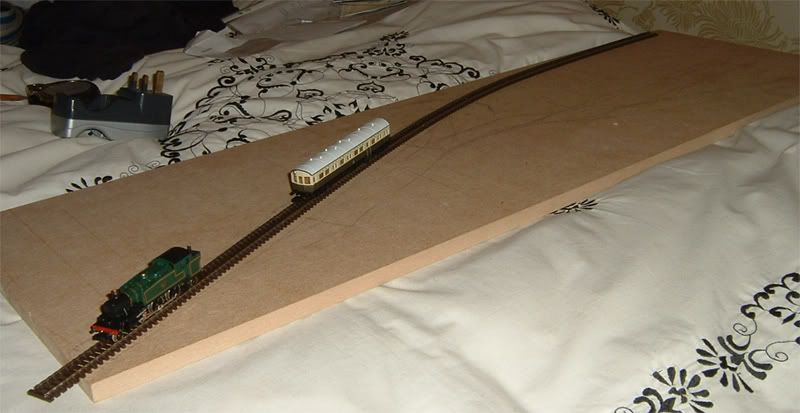 In the pic above the autocoach stands next to the area the platform will be, whilst the Prairie waits at the end of the passing loop.