---
Here are a few pix of the mine & coal distribution plant that will occupy the far corner of our layout. It was all an after thought and so the sidings or track are not running into the mine as they should (under the coal shoots). The fine detail was really good practice even though a lot will be obscured due to it's position.
It is not completed yet as we are waiting for some lights from Hong Kong!
and some more vehicles and people figures to populate the scenes. We also plan to add a water feature eg trickling stream (cant decide what colour the stream bed would be.
We are also going to fashion some pipes draining water from the workings.
Please comment even to say what a load of poo or whatever

Cheers
Cole & Ronnie (nearly)age 7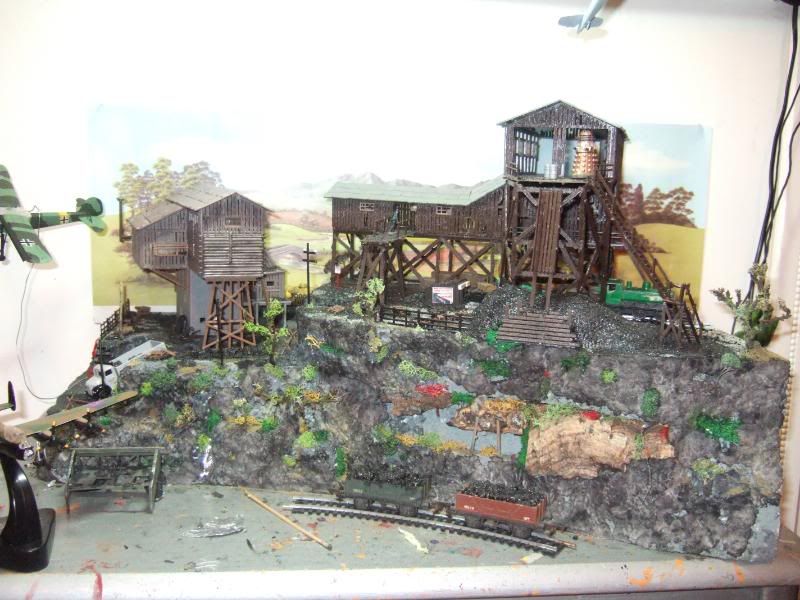 It comprises a polystirene & paper mache base with a couple of Faller kits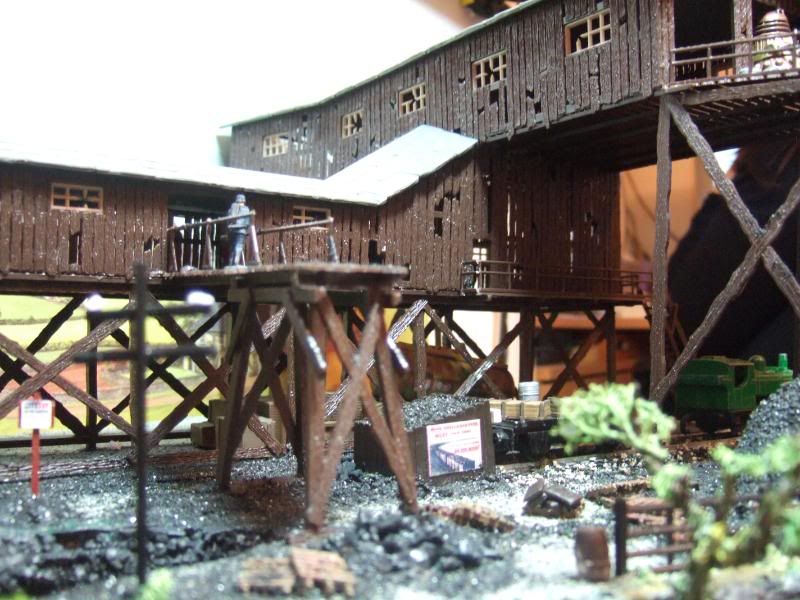 If you are considering a mine on your layout, I have a thread in scenery discussing the kit variations & scratch building.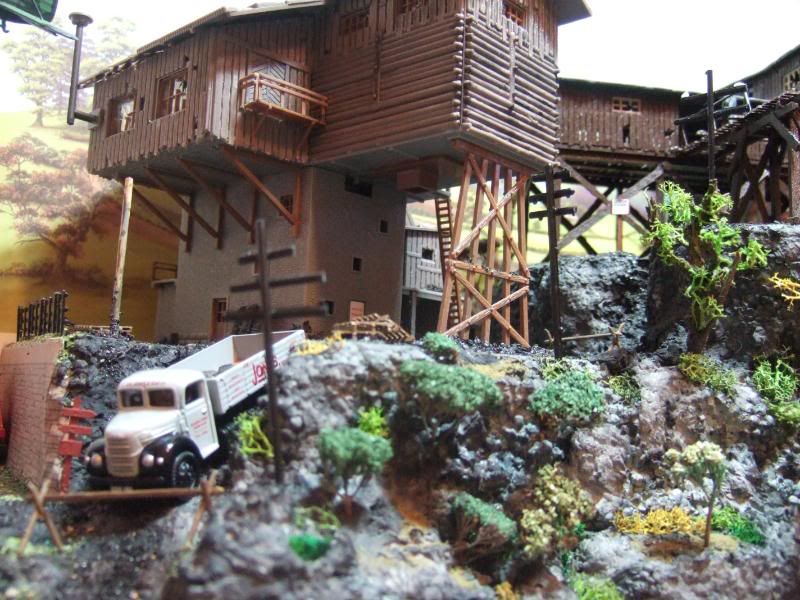 This Faller kit looks kind of American or European. I'm not sure where the prototypes would have been
But it suits our 1930's era.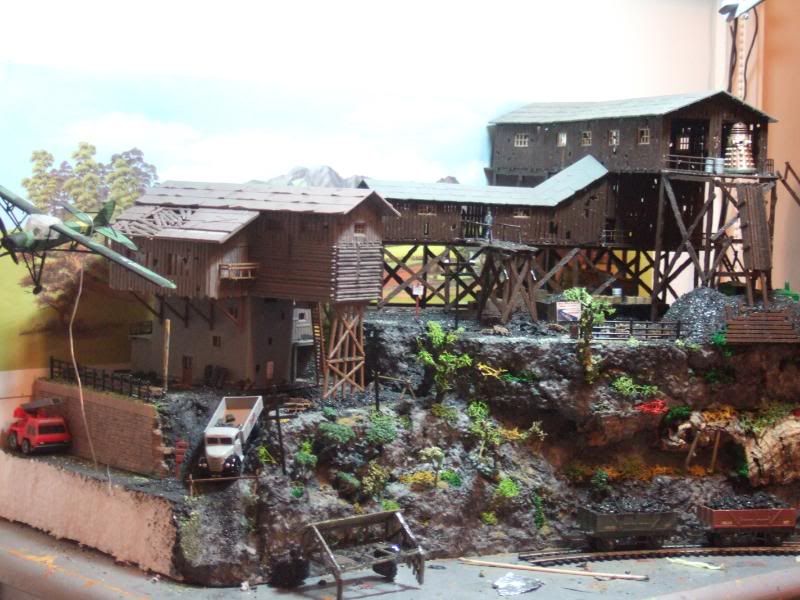 The Green Loco & Flatbed are just props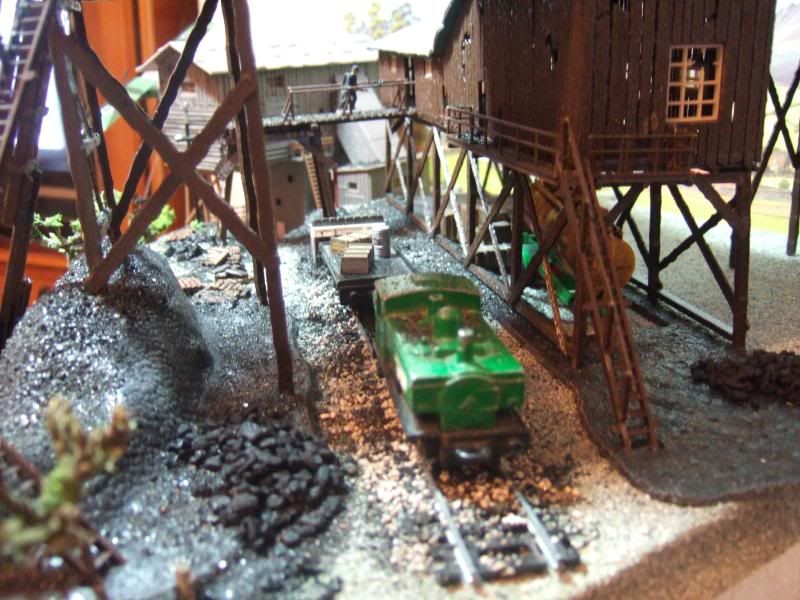 Thinking about adding some pit ponies
Does anyone know where I can get some small coal carts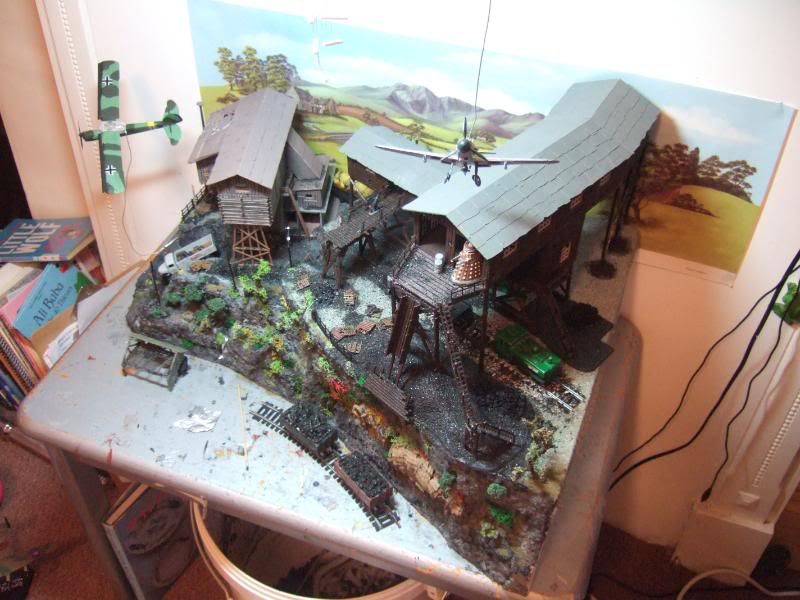 More to follow soon
AFTER you've commented.......youre all such voyeurs...lol
---
I like the hillsides, very dirty looking and realistic. I'm always looking for ideas for my quarry area.

The buildings look really good!
---
I can't find the TARDIS on the layout

Frolly from Derby
---
Posts: 847
Joined: Mon May 01, 2006 8:49 am
Location: UK
A great layout, very interesting! I might just have to string up my Ju87 Stuka now.
---
Posts: 151
Joined: Thu Sep 27, 2007 7:49 pm
Looking great - and good to see the stiff upper lip keeping things running as normal despite the frenzied strafing!

K
---
Posts: 2155
Joined: Wed Oct 18, 2006 2:35 pm
Location: Southend-on-Sea
Contact:
I hate to be the one to suggest this, but there is a glaring mistaske in the scenery...surely the higher ranking Dalek would
never
allow itself to be put into such a perilous situation? I'm no officionado, but wouldn't it have been a bog standard silver one?

<Awaits stampede of Dr Who disciples to tell him which rank that Dalek actually is
>
Actually, seeing the Dalek there reminded me of a scene at the disused mine in Dalek Invasion of the Earth 2150

It was one of my favourite films as a kid, so I love it
Seriously though, it's a splendid bit of kit you've made there. Nice to see you evidently have a healthy sense of humour as well as very healthy eye for a good model like that. And the scene you are creating around it certainly oozes atmosphere already and looks set to do it justice.
I especially like the crappy mess piles behind the train. It's so hard to make a pile of rubbish look just that rather than a contrived prop, so hats off on that too.
I look forwad to seeing more high quality scenes mate. If possible, I'd particularly like one depicting a crack troop of Daleks, led by Michael Caine, that have disguised themselves as Polish Soldiers and attempt to assassinate Churchill! It'll be an epic
I really must lay off the mushrooms...
Cheers
Tim
---
---
Return to "Personal Layouts - Under Construction"
Who is online
Users browsing this forum: No registered users and 22 guests