Another month passes by with not much action on the layout! However the time hasn't been completely wasted. I spent a few evenings finally finishing off the Scalescenes diesel depot that I started months ago. I became rather fed up during the build, not because of the kit itself but because of the materials I was using. I had been using some free card that was left over inserts from work but I had to glue 2 or 3 of these together to achieve the desired thickness. This resulted in lots of warping on the larger pieces, and that is what I got fed up of. Finally I came across a product called Finnboard which could be bought in 1 and 2mm thickness sheets. This has made the Scalescenes builds a doddle! It is easily cut and doesn't appear to warp either. To compliment the depot I have this week built the free Scalescenes inspection pits. I am going to experiment with some yellow 3mm LEDs to light them up too.
Last weekend I managed to escape the family for a few hours and went over to the Nottingham show. Whilst I was there I managed to pick up my first ever Kadees (#18, #19 and #321 uncoupler). I have seen lots of Kadees used on other layouts and I think they look so much better than standard Hornby / Bachmann couplings with the added benefit of hands free uncoupling. So on my return a #19 was fitted to 66610 as an experiment and I am very pleased with the results. I just need to get in the loft now and fit a Kadee to a container flat and give it a try.
Finally, a new arrival at Chadwood - 57012 in Freightliner livery. Although an older Hornby model, I liked the look of the weathering and thought it may fit in with my other Freightliner stock. It had a DIY lighting kit fitted (quite good too) and I am trying to extend this to add directional lighting now.
Any enough talking, here's a few pics:
57012 Freightliner Envoy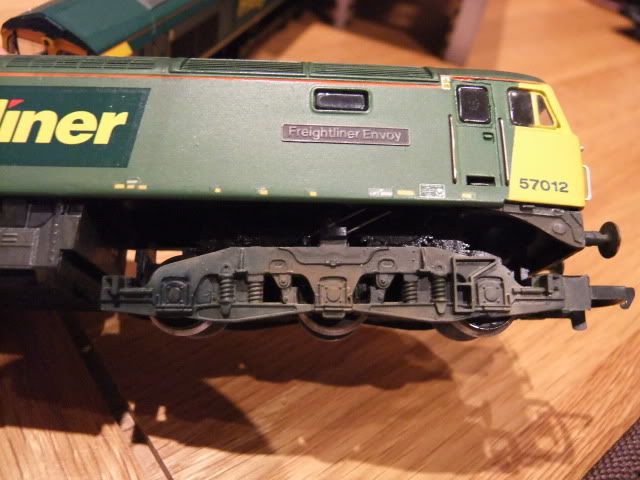 New arrival 57012 in the new diesel depot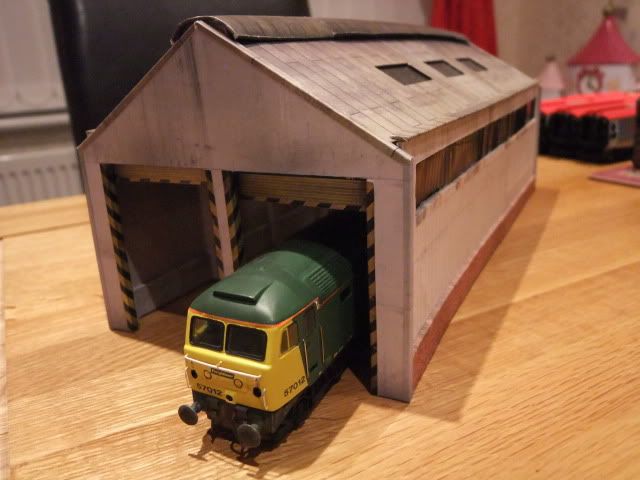 Joined in the shed by 66610 with Kadee coupling fitted
Scalescenes inspection pit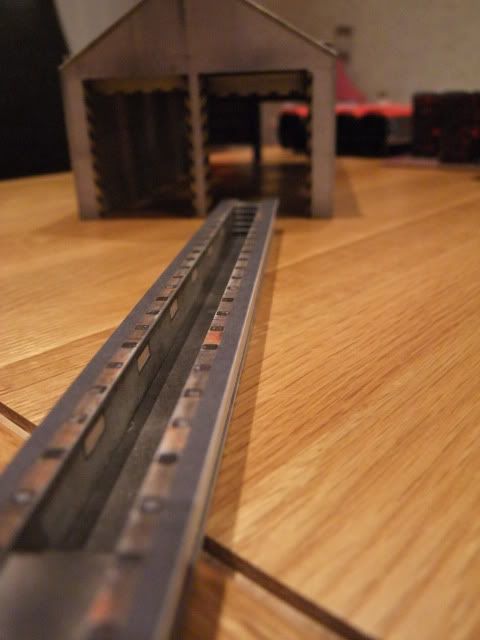 Hopefully my next post will show all of these on the layout rather than the dining table!
Dave