Hi all
Some photos of the new Dapol production HST.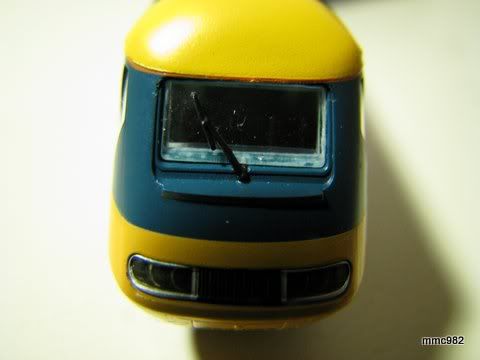 Coupling with the standard rapido coupler, very very good.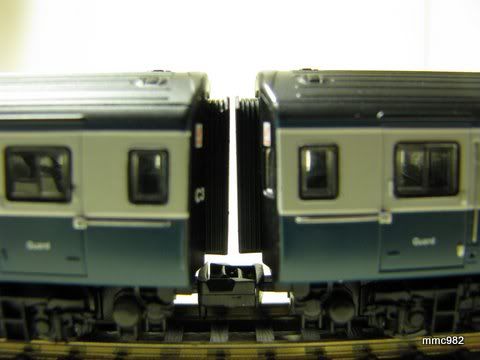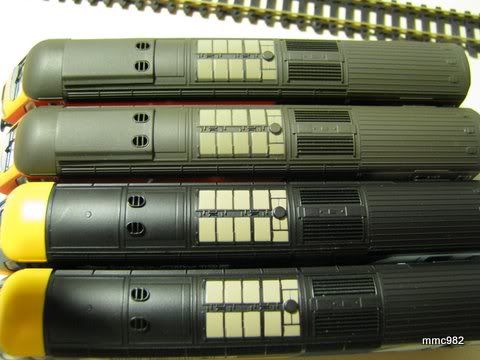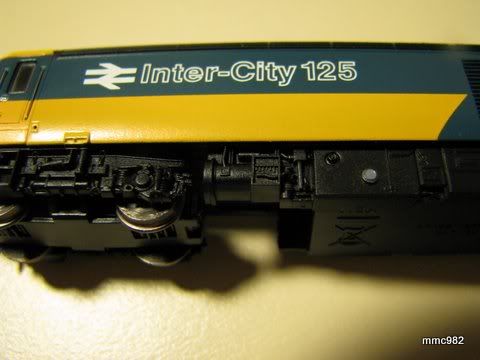 Here are my first impressions of the HST. Livery and attention to detail of the actual body are excellent. It must be noted that when it comes to the livery I have never actually seen one so I will leave that to the experts.
Livery and exterior.
I'm my opinion Dapol have captured the essence of the HST. The lines are sharp, crisp and they is a consistent quality through the body. The actual tool used is of very high quality as I could find no flash and no stress marks in the plastic so good cool down time was observed. I really like the hand rails and the fact their is no over spray. ON close inspection the attention to detail is fantastic eg the exhausts are not blanked off they are proper holes, the logos lettering are very sharp and easy to read. My only one concern with the body is the yellow over blue, in saying that you will not notice it any more than 100mm from the loco. All in all I will give the body of the HST 9/10 she just looks the part!
Bogies excellent attention to detail, no flash at all. Gearing has a smooth feel and a very low rolling resistance. Go easy on the lube but otherwise they are very realistic.
Chassis/ Motor housing + interior soldering is excellent, no cold solder joints at all, shiny clean joints what I like to see. 3 pin Molex plug on lighting PCB again board has clean joints. I gave it a good tug and no break on any joint. Wiring is colour coded to suit DCC thats another plus for anyone who wants to hard wire it. It comes with the standard 6 pin NEM plug with plenty of space for a decoder. Wiring harness is neat and user friendly. Some may argue that Dapol should have gone the next step and added 1 red wire on the pick up, I disagree I cannot see the point.
All in all the main part that I work with has being very well engineered, I always considered the Dapol 67 a superb piece of engineering that would be hard to beat well Dapol have set a new bench mark with their HST. A lot of thought has gone into this and I like the little touches, foam dampening around motor. It will help to reduce noise and vibration. As far as the standard modeller is concerned adding a decoder will be very easy. The body comes off readily with minimal pressure and their is plenty of room for decoder of choice.
Lighting is great with head lights and red markers on each unit. Pick ups are stiff so you will get good constant positive contact from both bogies. The dummy will require a separate 2 function decoder to get the full effect in DCC. I ran it in for 1 hour on DCC on the rolling road and then put her through some paces on a small loop I have for testing with some points. No problems at all considering it has bounced all over the place as hand luggage. The motor pulls about 150mA after about 1 hr running in.
Highly recommended I will give this a 9/10 as Dapol have really made an effort here to get it right. I have put a fair few through their paces and no running problems, actually little to note at all. If your unsure go and have a look at one in a hobbyshop you will not be disappointed.
Summed up simply with "Outstanding"
Cheers
Martin