Posts: 12357
Joined: Thu Mar 11, 2010 12:06 pm
Location: Bottom end of N. Warks line
My experience of putting on shows (not model railway) is split between, being a part of the team for multi day business equipment shows at the NEC,and the logistics involved in doing a much smaller and noisier show (ie being a roadie). Both seemed to require massive amounts of frenetic activity separated by periods of hanging around hoping that nothing goes wrong.
---
they should plan all of the shows the weekend after payday as its the only weekend i dont feel skint

---
Lofty
andyw wrote:is there a section on here to publicise upcoming shows, or a list of shows for the year, ive done a quick search and havent found one
flying scotsman123 wrote:usually they end up in this section, someone suggested a specific section but I can't see the point really.
b308 wrote:I did and it was to publicize any exhibitions where layouts that feature on here are taking part in a show, both as publicity for the show and as a way of allowing people to see the layout (and builder!) in the flesh!!

I still think it's a good idea but I don't think the Mods do but thanks for the excuse to plug the idea again!
We have no problem with any show getting free publicity by advertising their show in this section. There are lists elsewhere on the web that are not hard to find.
---
Posts: 307
Joined: Sun Nov 12, 2006 11:13 pm
Location: Widnes, Ex Black Country
I travel to the bigger shows if they look worth a good few hours of watching and spending. From my home in Widnes I usually attend Warley (mainly becasue I originally come from the west mids so visit family at the same time), York, Wigan, also anything along the M62 like Manchester, Shipton, Halifax and all the local ones like Rainhill, Warrington, Liverpool, Birkenhead, Southport. I go to the big shows to see quality layouts and find specific traders and I go to local shows because I feel like I should support the local modelling scene even though I am a lone moddeler and not affiliated to any club.
Sometimes Wifey comes with me but only becasue I promise to take her somwhere else after, such as we go to York every Easter and she gets bored after about 4 hours of me going around in circles and up and down the stairs so we then slip out and drive over to Whitby for fish and chip tea

So in a day I drive from West to East side of the country and back again starting at 7:00am and getting back home about 11:00pm.
Apart from seeing listings in magazines I use the following site for directories of upcoming shows
http://www.ukmodelshops.co.uk/events/exhibitions
"Go on, just one more board, pleeeeeaaaase?"
My Layout Thread
My Photobucket Albums
---
Posts: 424
Joined: Fri Dec 28, 2007 6:54 pm
Location: London SW19
Just returned to sunny south west London from St Albans. Show was good, but packed so tight it was a struggle to move around.
£6 from Wimbledon to St Albans: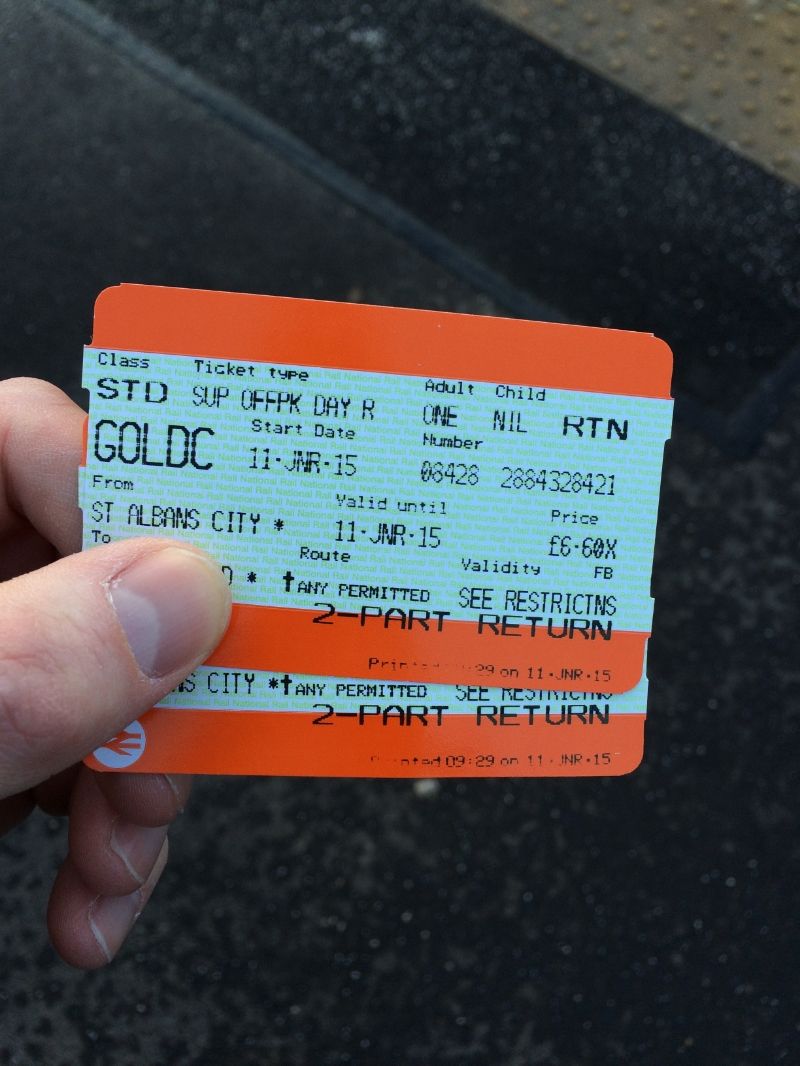 Used my Goldcard discount so actual fare about £9 - £10. Anyway as for the £8 to get in - compared to say Epson which I think is £5? And maybe Railex which i think is also about £8. They're all decent shows. You just have to time it right when you visit otherwise its mobbed with parents & really small awful kids. And I might add that I have raised three daughters so am well aware what 2-3-4 years olds are like!
Love the detail on this retaining wall & the scratch built track: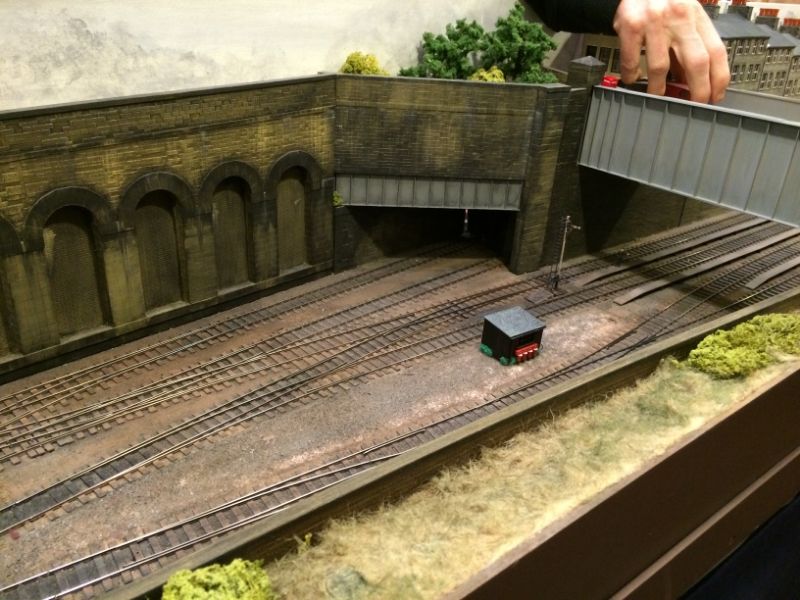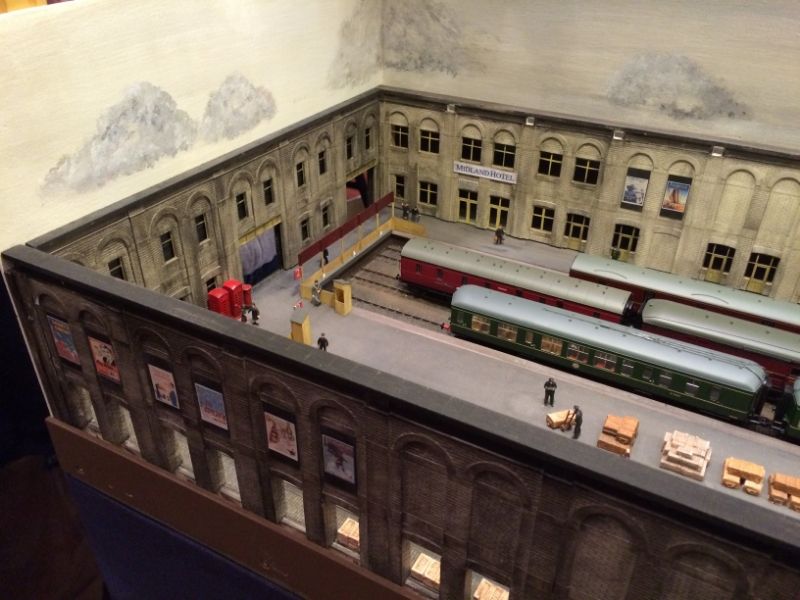 Just noticed the hand that crept into shot!!
OO in the loft. Lenz 90 making it go.
---
Posts: 4903
Joined: Sun Jan 12, 2014 9:58 pm
Location: At the end....... and sometimes at the other end
We had planned to meet some family a couple of days ago at Brighton racecourse car boot sale today.
I checked the local free paper about 3am this morning to see the advert for it and lo and behold there was a toy/train fair at the same time at the same place.
So we got up nice and early and was all ready to go and then noticed at message on the answer phone saying "we can't make it".
We was all ready so decided to go anyway and ended up in the fair first. Only because it was cold you understand
The advert said that there would be a large layout but it was only an elaborated train set really with a mini motorway added to it. I couldn't take any pictures as I forgot my camera anyway.
It was £2 for the entrance fee and some stalls were non railway items. Around 25-30 in total.
I was on the lookout for a private wagon or two but nothing really grabbed me apart from a St. Austall and a Bridport based one.
I did wander around more than once and saw the Ratio RO513 Provender (Goods) Store Kit twice so noting the price of the second I went to the first and was told the same price both at £8. More wandering around I ended back at the second sellers stall again but this time I picked it up to take a look as neither were new.
The seller said he would take £5 for it. So that decicsion was made for me.

He also had the Ratio RO525 Coal/Timber Merchants Kit which also had a price of £8. The outer box is in quite a bad "loft found" state so I picked it up to have a look inside.
"It's all there he said", but I do like to check, and before I know it he piped in "you can have both for £10"
NEARLY BIT HIS HAND OFF

So £12 all in all. Not bad for a small fair.
Although I will say, there was a lot that seemed over priced to me like the Lord of the Isles box set.
Offered to me at one fair last year for £65, at today's fair £165.
After we left, the boot sale was small but cold.... too cold

Thanks
End2end
---
Posts: 421
Joined: Wed Mar 02, 2011 9:37 am
Some of us smaller shows are dependant on young mums with small kids who bring them out on a Saturday for a cheap afternoon out. The Mums are quite happy to sit on a chair and let their children watch the trains go round and round and they are never a bother to anybody.

As a smaller show (16 layouts and 11 traders this year) we need all we can get as it pays for the hire of our hall at the Club so we welcome everybody. Our exit polls show we get those who go to every show every weekend, and they are there in the morning, and it is locals, with or without family, in the afternoon. We have tried to improve every year but the numbers seem to stay the same, and I am very glad to say there is no chance of us ever being the same sort of league as the Aylesbury one which would be a fulltime job I should imagine.

By the way, we are the Newbury Club, on show 14th February this year, 1000 - 1630 hrs, with a very good quality of exhibits. Admission is a fiver for adults, the sort of level we know people will pay, even though we have had a family of four turn away at ten pounds for a family ticket as too expensive !

It's a fine line between too expensive and too cheap !
---
Parents with small children and adults with wide shoulders...!! All pay their money and contribute to the success of a show. Like them or hate them without there is unlikely to be as many shows as there are currently. For the record I don't like either type but have certainly been one & am now probably the other!!

---
Posts: 424
Joined: Fri Dec 28, 2007 6:54 pm
Location: London SW19
js1975 wrote:... have certainly been one & am now probably the other!!
Indeed
OO in the loft. Lenz 90 making it go.
---
---
Return to "General Model Railway Discussion / News"
Who is online
Users browsing this forum: No registered users and 9 guests