Hi Guys,
A few months back I bought a used class 92 Victor Hugo for £35. I hadn't intended to get into model railwaying just then (it was something i wanted to do but never seemed to have time nor money). Anyway my little lad having bought (by proxy - me and his mum lol) had two 00 gauge carriages and I had some new unused track in the cupboard that i'd bought years ago but never got around to using as the intercity never ran properly (then got broken, binned etc). Anyway stumbled over the Lima and figured why not? - we need something to push and pull his two carriages..

So got it home, it ran like a dog. At first i thought it was the track (no idea about fishplate tightening back then). Then i thought it's cos it's on the carpet, so built a baseboard. It still ran like a dog. So for xmas we got him another few bits including a hornby class 92 (the red Schenker one). It ran superbly so i then realised that my class 92 was at fault and not the track - although i did have to tighten up some fishplates. I've cleaned the wheels, cleaned the gears, replaced the carbon brushes, re lubricated it.. nothing seemed to make it run significantly better and then a wire snapped off the motor (this has happened previously on the unpowered bogey - more on that in a bit). Anyway after managing to acquire quite a lot of other trucks, carriages, track, locos etc via many 2nd hand sources last night i came back to the Lima which had been sat on the desk for several weeks with a broken wire which my little lad has been nagging me to fix.
So i resoldered that last night but i still wasn't happy with it as i knew it was going to carry on getting stuck at the back of the baseboard (and various other places) so i decided to do something about the awful pickups on it. The motor bogey has two wheels that are used for picking up just one polarity - the front and rear wheels which are opposite the geared driving wheels. On the side of the geared wheels, not a single wheel is used for picking up juice. The non driven bogey has two wheels on one side (middle and one outer) and the two outer wheels on the other side. The non driven bogey is better obviously as it picks up both polarities but it's still stupidly designed. I've seen some people have added a 3rd pickup on this bogey but that seemed like a waste of time to me if you go over awkward points and then lose contact for whatever reason (eg catching a frog and lifting up momentarily). But I did make one improvement to this bogey - the wire that goes through the small hole. The wire breaks off the solder joint very easily and I had to do something about that. The cure was to make one round coil in the wire and resolder it onto the contact. The coil acts far more flexibly and allows the wire to move without affecting the solder joint too much. As the bogey moves, the wire in the chassis hole moves too. With the coil there the coil then does the moving instead of the solder joint. The coil can be made by winding the wire round a very thin screwdriver. Unfortunately it's a bit of a pig to make and not easy to photograph so you'll just have to make do with this lol: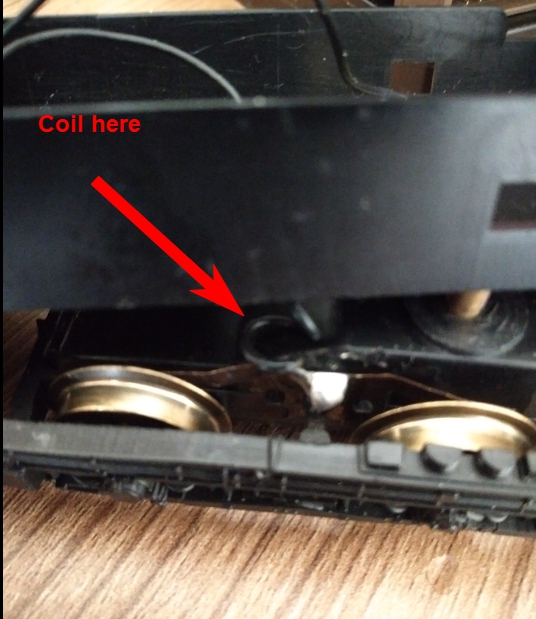 Anyway back to the motor bogey. It has that one wheel between the two driven wheels which is perfect for another pickup (the two geared wheels are traction tyre wheels so this technique can't be used on those). I tried previously with no success to solve this however yesterday i finally found a good way to do it. Yes it was a bit fiddly but it was certainly worth it. Although it's still early days, so far it's been very reliable and will crawl over our most stubborn set of points (naturally pinned down and right at the back) at the slowest speed without stalling - it used to stop there every time. It now goes right around the track at a crawling speed without stopping so i'm pleased with the early results.
I used some 15A fure wire. First of all i fitted it to the bottom of the bogey in a little slotted space next to one of the driving wheels - you'll see from this pic that the end of it is bent up (only slightly as i needed a spring effect) and placed on top of the wheel. I tried all sorts of things - side of the wheel, behind / in front, slightly below it.. but on top was the best as it helps keep the wheel in contact with the track: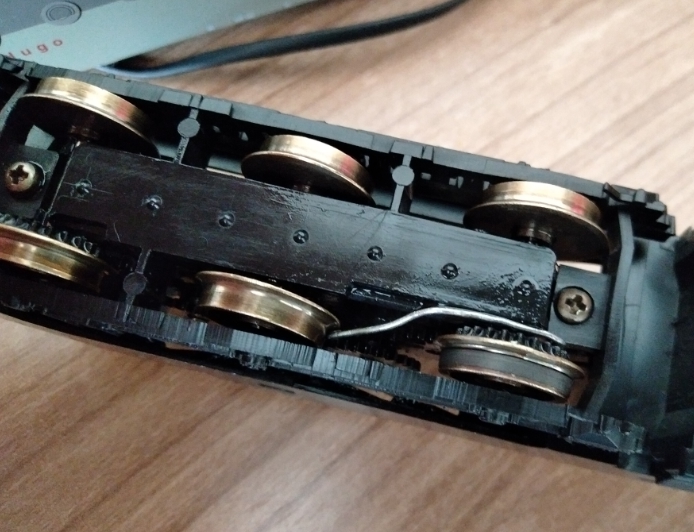 While holding this i've marked where to bend it, removed it and bended it so that it would fit between the chassis and driving wheel. Then once up into the motor area, i've folded it over the middle bit of plastic to give it something to hold onto (note that none of this is glued - it's only held in place by solder):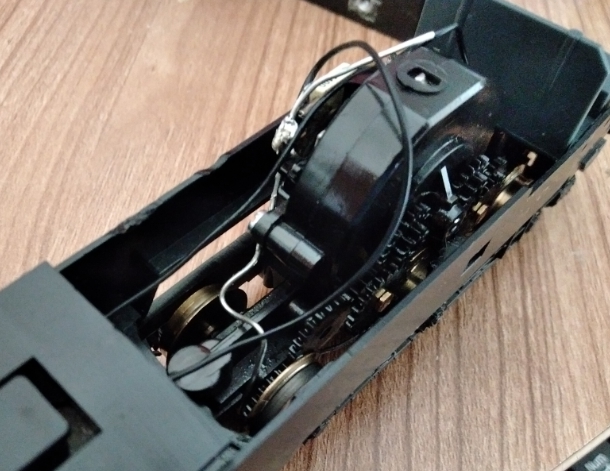 Once that was done, it was just a job of soldering to the motor and existing wire - being fuse wire the solder took to it quite easily (excuse the excess wire - i've lost my wire clippers lol):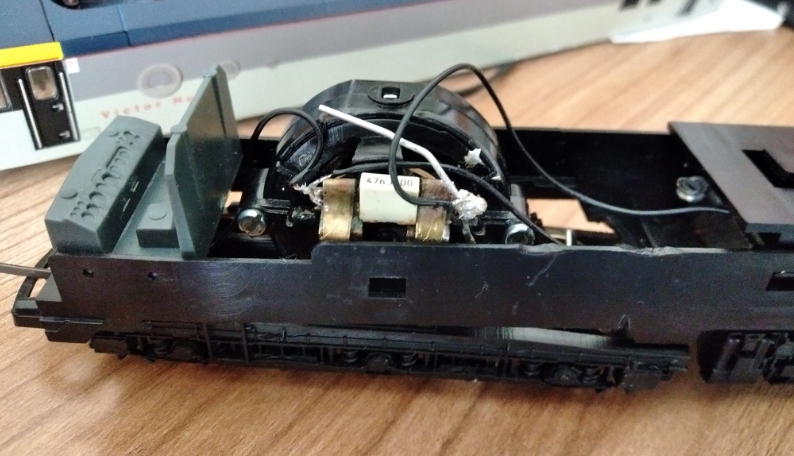 Once it was soldered it was then a case of making fine adjustments to some of the bends - using two small screwdrivers to manipulate it (or in my case, two multimeter probes lol). Anyway it touches the top of the wheel where it is out of the way with a mild spring effect which keeps the wheel on the track. The (early) result is 100% reliability. It crawls round over everything that used to stop it at faster speeds, dead point frogs are no longer an issue thanks to having two bogeys that pickup both polarities instead of 1.5 - which was really weird.
If you wanted to use this technique and improve it i guess you could drill holes into the bogey chassis and fit the fuse wire in there permanently with a bit of glue and then passing it up for offering to the motor but this was my first time and i just wanted to get it working. Hopefully this post will help any other googler's out there looking for a quick fix.
JickettyCan.